kentjunkie.com newsletter
Sign up and you have a chance to win kent merchandise!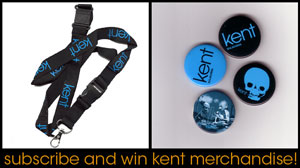 If you sign up for the kentjunkie.com newsletter you will be qualified for all kentjunkie.com sweepstakes. During April/May there is a key band and four pins from the 2005 tent-tour at stake for one lucky winner. Winners will always be contacted by e-mail.
Previous winners can be found here.
All you have to do to join is to sign up for the newsletter using the form below.

If you already subscribe to the kentjunkie.com newsletter you are automatically in the sweepstakes and you DO NOT need to sign up again for your chance to win.